The 2013 Kennedy Half Dollar (Buy on eBay) was available only within numismatic products offered by the United States Mint. The circulation strike versions unexpectedly saw their highest mintage in years.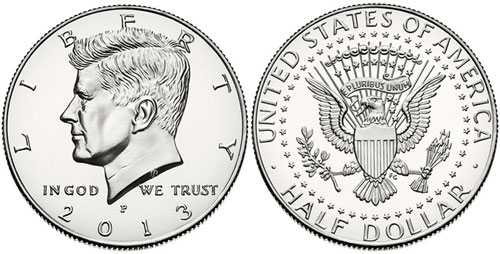 The US Mint opened sales for the circulating quality 2013-dated half dollars on June 20, 2013. Two rolls sets were available which included one 20-coin roll each from the Philadelphia and Denver Mints priced at $32.95. There were also 200-coin bags available which included 100 coins from each mint priced at $139.95. The offerings and prices remained unchanged from the prior year.
At the time of release, the US Mint had struck 1.8 million circulating quality half dollars each at the Philadelphia and Denver Mint facilities. These figures were in line with other recent years and no further production was anticipated. For the past decade, the US Mint struck only the number of half dollars that were necessary to fulfill collector demand.
In November, the US Mint surprised collectors by striking an additional 3.2 million and 2.8 million circulating quality 2013 Kennedy Half Dollars at the Philadelphia and Denver Mint facilities. It was later revealed that the additional production took place after the US Mint received an order for the denomination from the Federal Reserve. Soon after the order was placed, it was cancelled, however by this time production had already taken place leading to much higher total production than necessary to meet collector demand.
During the year, 2013 Proof Kennedy Half Dollars were also available in either standard composition of 90% silver composition. These coins were struck at the San Francisco Mint with the "S" mint mark and available as part of the core annual set offerings in addition to certain other products.
2013 Kennedy Half Dollar Mintage and Specifications
Circulation Mintage: 5,000,000 (Philadelphia), 4,600,000 (Denver)
Proof Mintage: 854,785 (copper-nickel), 467,691 (silver proof)
Mint Marks: P (Philadelphia), D (Denver), S (San Francisco)
Composition: 91.67% copper, 8.33% nickel (standard) / 90% silver, 10% copper (silver proof)
Weight: 11.34 grams (standard) / 12.50 grams (silver proof)
Diameter: 30.61 mm