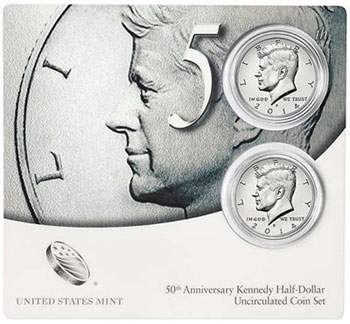 The first of three special products released by the United States Mint to celebrate the 50th anniversary of the Kennedy Half Dollar series was the Uncirculated Coin Set (Buy on eBay), which went on sale July 24, 2014.
The product included uncirculated quality half dollars struck at the Philadelphia and Denver Mint facilities in the standard copper-nickel clad composition. Each coin featured the restored original 1964 portrait design by Gilroy Roberts, making the coins separate and distinct issues from previously released coins which featured the modern portrait.
Packaging for the product consisted of a folder and coin card. The folder included a large partial image of the 1964 Kennedy Half Dollar and information on the 50th anniversary of the series. The two coins were mounted on an enclosed card which contained information on the coin design as well as a certificate of authenticity.
Initially the 50th Anniversary Kennedy Half Dollar Uncirculated Coin Set was priced at $9.95 with an ordering limit of five units per household and no product limit established. Leading up to the release, the US Mint indicated an initial production of 37,000 sets. Opening day sales quickly surpassed the initial production with 68,974 units ordered.
Later in the year, the US Mint would remove the household ordering limit and announce a product limit of 200,000 units.

Production and Specifications
Date: 2014
Mint Marks: P (Philadelphia), D (Denver)
Quality: Uncirculated
Production Limit: 200,000
Composition: 91.67% Copper, 8.33% Nickel
Weight: 11.340 grams
Diameter: 30.61 mm