Proof Kennedy Half Dollars (Buy on eBay) have been struck for each year of the series, with the exception of the years from 1965 to 1967 when special mint set coins were issued instead. The composition of the proof coins has varied over the years, as the silver content was phased out of the denomination and then resumed for certain collector versions of the coins.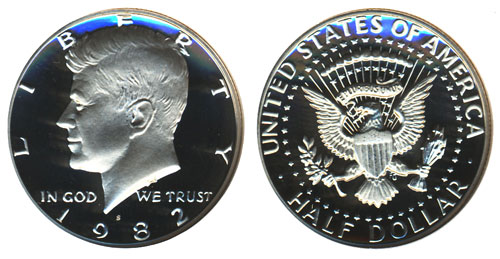 The 1964 Proof Kennedy Half Dollar was struck at the Philadelphia Mint in a composition of 90% silver and 10% copper. Starting in 1968, the proof coins were struck at the San Francisco Mint, carrying the "S" mint mark. From 1968 to 1970, the coins carried the prevailing composition of 40% silver. From 1971 to present, the standard proof coins were struck in the copper-nickel clad composition. For all years, the proof half dollars were issued within Proof Sets offered for sale to collectors.
For certain numismatic products, the Proof Kennedy Half Dollars have been struck in precious metal compositions. In 1976, proof coins were struck in 40% silver and included in a special three-coin set to celebrate America's Bicentennial. Starting in 1992, the US Mint released an annual Silver Proof Set, which included the half dollar struck in 90% silver. To mark the 50th anniversary of the series, proof half dollars were struck in silver and gold compositions with a variety of mint marks.
Proof Kennedy Half Dollar Mintages
| | |
| --- | --- |
| 1964 | 3,950,762 |
| 1968-S | 3,041,506 |
| 1969-S | 2,934,631 |
| 1970-S | 2,632,810 |
| 1971-S | 3,220,733 |
| 1972-S | 3,260,996 |
| 1973-S | 2,760,339 |
| 1974-S | 2,612,568 |
| 1776-1976-S | 7,059,099 |
| 1776-1976-S Silver | 4,000,000 |
| 1977-S | 3,251,152 |
| 1978-S | 3,127,781 |
| 1979-S | 3,677,175 |
| 1980-S | 3,554,806 |
| 1981-S | 4,063,083 |
| 1982-S | 3,857,479 |
| 1983-S | 3,279,126 |
| 1984-S | 3,065,110 |
| 1985-S | 3,362,662 |
| 1986-S | 3,010,497 |
| 1987-S | 4,227,728 |
| 1988-S | 3,262,948 |
| 1989-S | 3,220,194 |
| 1990-S | 3,299,559 |
| 1991-S | 2,867,787 |
| 1992-S | 2,858,981 |
| 1992-S Silver | 1,317,579 |
| 1993-S | 2,633,439 |
| 1993-S Silver | 761,353 |
| 1994-S | 2,484,594 |
| 1994-S Silver | 785,329 |
| 1995-S | 2,117,496 |
| 1995-S Silver | 679,985 |
| 1996-S | 1,750,244 |
| 1996-S Silver | 775,021 |
| 1997-S | 2,055,000 |
| 1997-S Silver | 741,678 |
| 1998-S | 2,086,507 |
| 1998-S Silver | 878,792 |
| | |
| --- | --- |
| 1999-S | 2,543,401 |
| 1999-S Silver | 804,565 |
| 2000-S | 3,082,483 |
| 2000-S Silver | 965,421 |
| 2001-S | 2,294,909 |
| 2001-S Silver | 889,697 |
| 2002-S | 2,319,766 |
| 2002-S Silver | 892,229 |
| 2003-S | 2,172,684 |
| 2003-S Silver | 1,125,755 |
| 2004-S | 1,789,488 |
| 2004-S Silver | 1,175,934 |
| 2005-S | 2,275,000 |
| 2005-S Silver | 1,069,679 |
| 2006-S | 2,000,428 |
| 2006-S Silver | 1,054,008 |
| 2007-S | 1,702,116 |
| 2007-S Silver | 875,050 |
| 2008-S | 1,405,674 |
| 2008-S Silver | 763,887 |
| 2009-S | 1,482,502 |
| 2009-S Silver | 697,365 |
| 2010-S | 1,103,815 |
| 2010-S Silver | 585,401 |
| 2011-S | 1,098,835 |
| 2011-S Silver | 574,175 |
| 2012-S | 843,705 |
| 2012-S Silver | 445,612 |
| 2013-S | 854,785 |
| 2013-S Silver | 467,691 |
| 2014-S | 767,977 |
| 2014-S Silver | 472,107 |
| 2015-S | 662,854 |
| 2015-S Silver | 387,310 |
| 2016-S | 641,775 |
| 2016-S Silver | 419,256 |
| 2017-S | 621,384 |
| 2017-S Silver | 406,994 |
| 2018-S | 535,221 |
| 2018-S Silver | 350,820 |