The 1970 Kennedy Half Dollar (Buy on eBay) was produced in very limited numbers. This year would also mark the final year that half dollars were struck in 40% silver, besides the special collector version coins that would be produced in later years.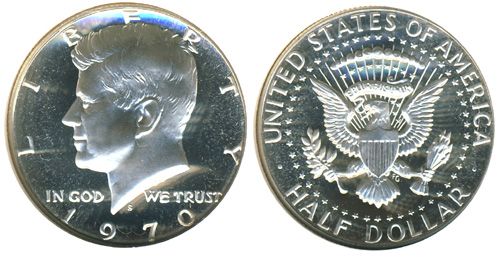 The United States Mint did not produce circulation strike versions of the coin for general release, rather only a limited number were struck for issuance within the 1970 Mint Set. This was an extremely unusual occurrence at the time. The 1970-D Kennedy Half Dollar ended up with a mintage of 2,150,000, which was miniscule when compared to the mintages for earlier years of the series.
Proof versions of the coin were also struck for inclusion within the 1970 Proof Set. Production was similarly low at 2,632,810, although this was the typical level for proof coinage of this era.
1970 Kennedy Half Dollar Mintage and Specifications
Circulation Mintage: 2,150,000
Proof Mintage: 2,632,810
Mint Marks: D (Denver), S (San Francisco)
Composition: 40% silver, 60% copper
Weight: 11.50 grams
Diameter: 30.61 mm