The 1970-D Kennedy Half Dollar (Buy on eBay) has traditionally been considered the key date coin for the series. The coin had a mintage of 2,150,000 due to the fact that it was only released in the government issued 1970 Mint Set and not issued for circulation. Some more recent issues of the series have actually had lower mintages, but this issue continues to retain its allure with collectors.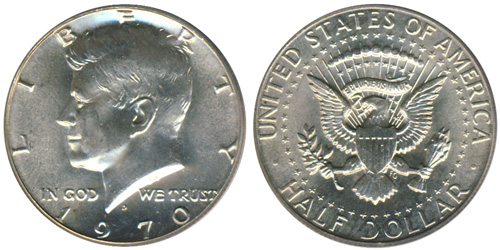 This year also represents the final circulation strike issue of the series to be minted with silver content. In later years, silver compositions were used for some specially issued collectible uncirculated and proof Kennedy Half Dollars.
Since all examples of the coin were issued within Mint Sets, it might be assumed that higher grade examples of the coin are plentiful, however, this is not the case. Most examples will be found with bag marks or light abrasions which will keep them below the gem level. Any 1970-D Kennedy Half Dollars graded MS65 or higher by the major grading services are scarce and command a premium. Examples graded MS67 by PCGS and NGC are extremely rare and have sold for four figure prices.
1970-D Kennedy Half Dollar Mintage and Specifications
Circulation Mintage: 2,150,000
Mint Marks: D (Denver)
Composition: 40% silver, 60% copper
Weight: 11.50 grams
Diameter: 30.61 mm