The 1999 Kennedy Half Dollar (Buy on eBay) saw the circulation strike mintages at the Philadelphia and Denver Mints drop to the lowest levels since 1987, when the coins had only been issued within mint sets. The mintage levels for this year were 8,900,000 and 10,682,000.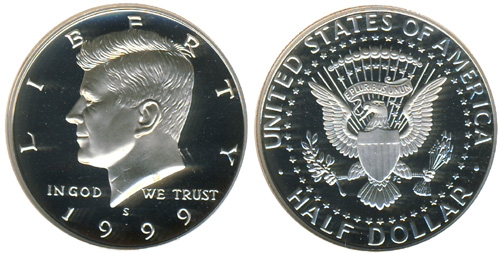 As had become customary, the San Francisco Mint struck proof versions of the coin in the standard composition and the 90% silver composition. These were included in the annual Proof Set and Silver Proof Set sold by the United States Mint. Total mintages came in at 2,543,401 for the standard proof and 804,565 for the silver proof.
Importantly, this year marked the launch of the 50 States Quarters Program, which would have a profound impact on coin collecting. By releasing coins with rotating designs into circulation, a new generation of collectors was inspired, resulting in generally higher sales of annual proof sets and other standard products. This development would come in later years, making the 1999 Silver Proof Set and included coins the lower mintage keys of the State Quarter era.
1999 Kennedy Half Dollar Mintage and Specifications
Circulation Mintage: 8,900,000 (Philadelphia), 10,682,000 (Denver)
Proof Mintage: 2,543,401 (copper-nickel), 804,565 (silver proof)
Mint Marks: P (Philadelphia), D (Denver), S (San Francisco)
Composition: 91.67% copper, 8.33% nickel (standard) / 90% silver, 10% copper (silver proof)
Weight: 11.34 grams (standard) / 12.50 grams (silver proof)
Diameter: 30.61 mm