The 2007 Kennedy Half Dollar (Buy on eBay) was issued in six different versions at three different mints. This included two standard circulation strike versions, two satin finish versions, and two proof versions. These coins were each issued within numismatic products offered by the United States Mint.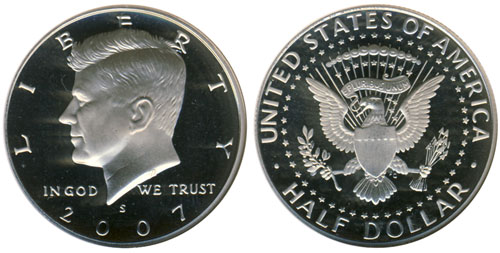 Sales of two roll sets and 200-coin bags of the circulation strike versions began on March 30, 2007. The two roll sets, containing one roll each from Philadelphia and Denver, were priced at $32.95 each. This represented a decline in price from the previous year. The 200-coin bags, containing an equal number of coins from each mint, were priced at $130.95, once again representing a reduction from the prior year.
The standard proof version of the Kennedy Half Dollar struck at the San Francisco Mint was included within the 2007 Proof Set, which went on sale July 19. The 90% silver proof version of the coin was included within the 2007 Silver Proof Set, which went on sale August 23. Finally, the satin finish versions from the Philadelphia and Denver Mints were included within the 2007 Mint Set released on October 9.
2007 Kennedy Half Dollar Mintage and Specifications
Circulation Mintage: 2,400,000 (Philadelphia), 2,400,000 (Denver)
Proof Mintage: 1,384,797 (copper-nickel), 875,050 (silver proof)
Mint Marks: P (Philadelphia), D (Denver), S (San Francisco)
Composition: 91.67% copper, 8.33% nickel (standard) / 90% silver, 10% copper (silver proof)
Weight: 11.34 grams (standard) / 12.50 grams (silver proof)
Diameter: 30.61 mm