The circulation mintage took a noticeable decline with the 1986 Kennedy Half Dollar (Buy on eBay). The Philadelphia Mint struck 13,107,633 coins, while the Denver Mint struck 15,336,145.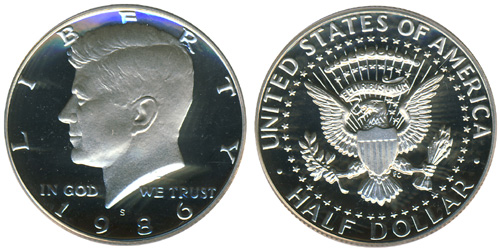 For many years, the demand for the denomination had been falling as half dollars were not widely used within circulation. For the remainder of the series, mintages would remain extremely low until the US Mint eventually stopped minting the coins for circulation altogether. In the following year, this situation occurred for a single year when production of the denomination was restricted to the number necessary for inclusion in US Mint Sets.
Proof versions of the coin were struck at the San Francisco Mint and contain the "S" mint mark. The mintage for this version remained relatively steady at 3,010,497.
1986 Kennedy Half Dollar Mintage and Specifications
Circulation Mintage: 13,107,633 (Philadelphia), 15,336,145 (Denver)
Proof Mintage: 3,010,497
Mint Marks: P (Philadelphia), D (Denver), S (San Francisco)
Composition: 91.67% copper, 8.33% nickel
Weight: 11.34 grams
Diameter: 30.61 mm