A point of focus for the 1979 Kennedy Half Dollar (Buy on eBay) are the two varieties for the proof version of the coin, which are differentiated by the appearance of the mint mark. The type 1 version has filled S mint mark and is the more common. The type 2 version has a clear S and is scarcer, with an estimated mintage of 428,000 pieces.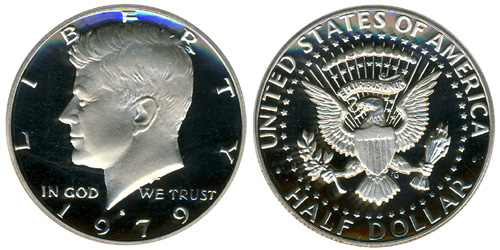 The 1979-S Type 2 Proof commands a premium and is very difficult to find in the highest grades of PCGS PR70DCAM or NGC PF 70 Ultra Cameo.
Circulation strikes were produced at the Philadelphia and Denver Mints with higher mintages than for the prior year. As with Kennedy Half Dollars of this era, the coins are available in mint state within the annual Mint Sets, which are affordably priced relative to the face value of the coins included.
1979 Kennedy Half Dollar Mintage and Specifications
Circulation Mintage: 68,312,000 (Philadelphia), 15,815,422 (Denver)
Proof Mintage: 3,677,175
Mint Marks: none (Philadelphia), D (Denver), S (San Francisco)
Composition: 91.67% copper, 8.33% nickel
Weight: 11.34 grams
Diameter: 30.61 mm