To celebrate America's Bicentennial, special reverse designs were created for use on the quarter, half dollar, and dollar coins. These designs were selected in a national competition sponsored by the Treasury Department. This represented the first time that circulating coin designs were changed in honor of the anniversary of American Independence.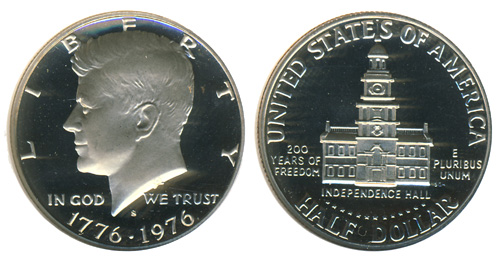 The 1976 Kennedy Half Dollar (Buy on eBay) featured a reverse design by Seth Huntington of Minneapolis, Minnesota. The central image depicts Independence Hall in Philadelphia with inscriptions "200 Years of Freedom" and "Independence Hall". The standard inscriptions for the denomination "United States of America", "E Pluribus Unum", and "Half Dollar" were also included. The obverse design remained the same, but carried the date "1776-1976" to recognize the bicentennial.
The first bicentennial half dollars were released for circulation on July 7, 1975. Under the authorizing legislation, the United States Mint was allowed to strike and release the coins during both 1975 and 1976. The total mintage for circulation exceeded 600 million pieces from the Philadelphia and Denver Mints.
Proof versions of the coin were struck at the San Francisco Mint and included within the 1975 Proof Set and 1976 Proof Set. The inclusion within two sets as well as the popularity of the coins leads the mintage to be more than twice the level typical for the era.
The US Mint also struck half dollars at the in a special composition of 40% silver. Proof or uncirculated versions of the 1976-S Silver Kennedy Half Dollar were included in separately issued sets.
1976 Kennedy Half Dollar Mintage and Specifications
Circulation Mintage: 234,308,000 (Philadelphia), 287,565,248 (Denver)
Proof Mintage: 7,059,099
Mint Marks: none (Philadelphia), D (Denver), S (San Francisco)
Composition: 91.67% copper, 8.33% nickel
Weight: 11.34 grams
Diameter: 30.61 mm