The focus of collectors for the 1981 Kennedy Half Dollar (Buy on eBay) once again moves to the proof version of the coin. In a similar situation to 1979, two different varieties exist which are differentiated by the appearance of the "S" mint mark. For this year, the Type 1 variety carries a clear "S" mint mark, which is similar in appearance to the Type 2 mint mark of 1979. The Type 2 variety is a flat mint mark with rounder serifs. Closer examination is required to differentiate the mint marks for this year, or if certified by a third party grading company, the type is noted on the holder.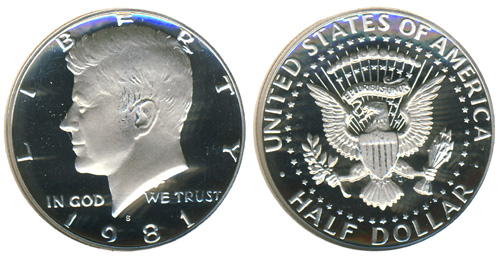 The 1981-S Type 2 Proof is the scarcer variety and commands a premium. It is estimated that 314,000 of the coins were originally produced, making this scarcer than the 1979 Type 2.
Circulation strikes were also produced for this year, with relatively high mintages and widespread availability through government issued mint sets.
1981 Kennedy Half Dollar Mintage and Specifications
Circulation Mintage: 29,544,000 (Philadelphia), 27,839,533 (Denver)
Proof Mintage: 4,063,083
Mint Marks: P (Philadelphia), D (Denver), S (San Francisco)
Composition: 91.67% copper, 8.33% nickel
Weight: 11.34 grams
Diameter: 30.61 mm