During 1998, the United States Mint offered the Kennedy Collector's Set, which contained the low mintage 1998-S Matte Proof Kennedy Half Dollar (Buy on eBay). The set was the only source for collectors to obtain this special issue and it was only available to order during a six week period.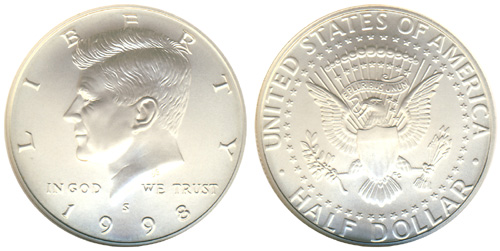 The Kennedy Collector's Set was produced as an extra special tribute to Robert F. Kennedy, who was being honored within a commemorative coin program. Each set included the uncirculated version of the 1998 Robert F. Kennedy Silver Dollar and a 90% silver Kennedy Half Dollar struck with a special finish.
The so called "matte finish" used for the half dollar required two extra steps in the minting process. The face of the coinage dies were sandblasted with a mixture of glass beads and aluminum oxide and the a hard chrome plate was added for hardness and lubricity. The resulting coins had a uniform finely frosted texture, similar to an uncirculated commemorative coin issue.
Because the matte proof Kennedy Half Dollar was only offered within the set, it had a low mintage of about 62,000 coins. The Kennedy Collector's Set was originally priced at $59.95, but today the half dollar is valued at multiples of the original issue price and is considered to be one of the key date coins of the series. Most examples will be encountered in pristine uncirculated grades due to the special minting and handling procedures. Many coins have been encapsulated and graded by PCGS or NGC in top grades of MS70 or SP70.