The 2015 Kennedy Half Dollar (Buy on eBay) saw the restoration of the original Gilroy Roberts portrait design across all versions of the coin. In the previous year, the United States Mint had used the restored portrait only for the coins included in three special anniversary products.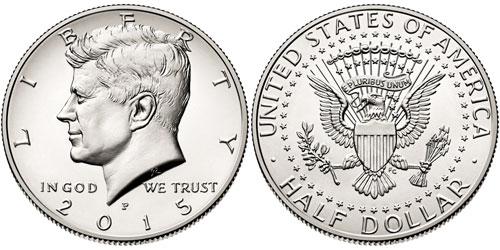 This represented the third denomination for which the US Mint reverted from the modern modified version to the original design. The original obverse design for the cent had been restored in 2010 to coincide with the adoption of a new reverse design. The original obverse portrait for the quarter was also restored in 2010 to coincide with the launch of the America the Beautiful Quarters Program.
Sales for bags and rolls of circulating quality 2015 Kennedy Half Dollars opened on February 12, 2015. Matching the offerings from recent prior years, there were two roll sets available priced at $32.95 and 200-coin bags available priced at $139.95. Each product contained an equal number of coins from the Philadelphia Mint with the "P" mint mark and Denver Mint with the "D" mint mark.
Proof versions of the half dollar were also included within annual sets and celebration sets issued by the United States Mint. These coins are struck with a proof finish featuring frosted raised design elements against a mirrored background to create a cameo effect. The coins are struck at the San Francisco Mint and carry the "S" mint mark. Different products contain the proof coins in standard copper-nickel clad composition, while others contain the coin struck in 90% silver.
As in recent prior years, the newly dated Kennedy Half Dollars are not released for circulation, but only available within numismatic products sold by the United States Mint.
The final mintage for the circulation strike 2015 Kennedy Half Dollars reached 2,300,000 pieces each at the Philadelphia and Denver Mint facilities.
2015 Kennedy Half Dollar Mintage and Specifications
Circulation Mintage: 2,300,000 (Philadelphia), 2,300,000 (Denver)
Proof Mintage: 662,854 (copper-nickel), 387,310 (silver proof)
Mint Marks: P (Philadelphia), D (Denver), S (San Francisco)
Composition: 91.67% copper, 8.33% nickel (standard) / 90% silver, 10% copper (silver proof)
Weight: 11.34 grams (standard) / 12.50 grams (silver proof)
Diameter: 30.61 mm