It is often the case that demand for newly introduced US Mint products is highest for the first year, followed by a sharp decline. This was clearly the case with the 90% silver proof sets introduced in the previous year.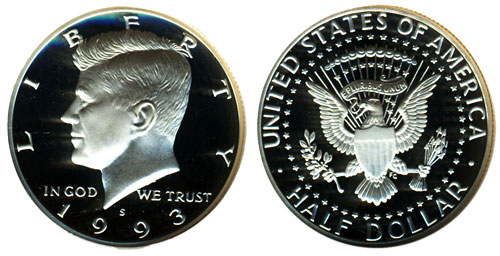 The 1993-S Silver Kennedy Half Dollar (Buy on eBay) had a mintage of 761,353, representing a sharp decline from the prior year mintage of more than 1.3 million. These 90% silver half dollars were only issued within the annual Silver Proof Set and can be identified by the color, particularly the silver edge of the coins, or the US Mint packaging. This second issue carries a premium due to the lower mintage.
The United States Mint continue to strike Kennedy Half Dollars for general circulation. Mintage levels saw a slight decline to a little of 15 million each at the Philadelphia and Denver Mints. Finally, the standard composition proof version was also issued. Struck at the San Francisco Mint and included in annual sets, these prof coins had a mintage of 2,633,439.
1993 Kennedy Half Dollar Mintage and Specifications
Circulation Mintage: 15,510,000 (Philadelphia), 15,000,006 (Denver)
Proof Mintage: 2,633,439 (copper-nickel), 761,353 (silver proof)
Mint Marks: P (Philadelphia), D (Denver), S (San Francisco)
Composition: 91.67% copper, 8.33% nickel (standard) / 90% silver, 10% copper (silver proof)
Weight: 11.34 grams (standard) / 12.50 grams (silver proof)
Diameter: 30.61 mm