Production of the 1989 Kennedy Half Dollar (Buy on eBay) for circulation saw a brief boost. The Philadelphia Mint struck 24,542,000 pieces and the Denver Mint struck 23,000,216 pieces. These levels were nearly double compared to the previous year and up substantially from 1987 when the denomination was only included in mint sets.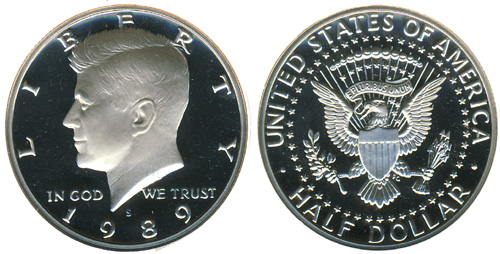 The shifts in mintages do not have a substantial impact on the availability of coins for collectors. The primary source for many collections will be the annual mint sets produced by the United States Mint, which contain uncirculated examples of each coin.
The 1989-S Proof Kennedy Half Dollar had a mintage of 3,220,194, a typical production level for the era. These coins were issued within the annual proof sets offered by the US Mint.
1989 Kennedy Half Dollar Mintage and Specifications
Circulation Mintage: 24,542,000 (Philadelphia), 23,000,216 (Denver)
Proof Mintage: 3,220,194
Mint Marks: P (Philadelphia), D (Denver), S (San Francisco)
Composition: 91.67% copper, 8.33% nickel
Weight: 11.34 grams
Diameter: 30.61 mm