The 2005 Kennedy Half Dollar (Buy on eBay) saw the mintage for circulation strike versions of the coin reach the highest level since 2002, when production for circulation had ceased. These coins were sold to collectors at a premium to face value within specially wrapped rolls and sewn canvas bags. The total mintage for these coins was 3,800,000 pieces each from the Philadelphia and Denver Mints.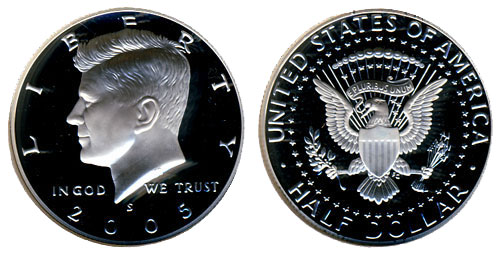 Meanwhile, the proof versions of the coin continued to be available within the annual sets offered by the Mint. This included a clad composition proof coin with a mintage of 2,275,000 and a 90% silver version with a mintage of 1,069,679.
This year another version of the Kennedy Half Dollar was introduced. The US Mint began issuing coins with a satin finish for inclusion in the annual Mint Set. This meant that two more coins were required annually for a complete set, the satin finish Philadelphia strike and the satin finish Denver strike.
2005 Kennedy Half Dollar Mintage and Specifications
Circulation Mintage: 3,800,000 (Philadelphia), 3,800,000 (Denver)
Proof Mintage: 2,275,000 (copper-nickel), 1,069,679 (silver proof)
Mint Marks: P (Philadelphia), D (Denver), S (San Francisco)
Composition: 91.67% copper, 8.33% nickel (standard) / 90% silver, 10% copper (silver proof)
Weight: 11.34 grams (standard) / 12.50 grams (silver proof)
Diameter: 30.61 mm