The 1969 Kennedy Half Dollar (Buy on eBay) would represent the last coin of the series struck and released for circulation with a composition of 40% silver. This composition, which contains a net weight of 0.14792 troy ounces of pure silver had been used for the denomination starting in 1965. The silver content provides any example of this coin with a premium value based on the intrinsic value.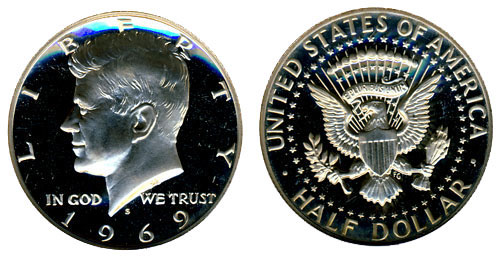 During the year, circulating half dollars were struck at the Denver Mint and carried the "D" mint mark. Proof examples of the coin, which were included only in US Mint issued proof sets, were struck at the San Francisco Mint and carried the "S" mint mark.
As with other coins from this portion of the Kennedy Half Dollar series, circulation strikes are desirable in higher grades of MS66 or MS67. The proof strikes are desirable with cameo or deep cameo contrast.
1969 Kennedy Half Dollar Mintage and Specifications
Circulation Mintage: 129,881,800
Proof Mintage: 2,934,631
Mint Marks: D (Denver), S (San Francisco)
Composition: 40% silver, 60% copper
Weight: 11.50 grams
Diameter: 30.61 mm