The production levels for the half dollar saw a surprising jump to start the new decade and millennium. The 2000 Kennedy Half Dollar (Buy on eBay) saw production for circulation of 22,600,000 at the Philadelphia Mint and 19,466,000 at the Denver Mint. These levels were roughly double the mintages seen in the previous year.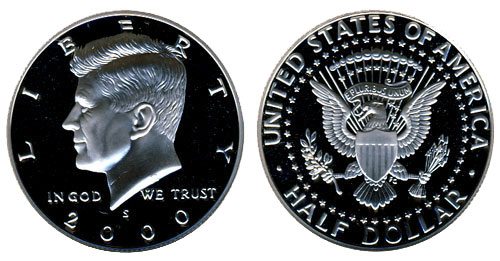 In general, circulating coin production figures were much higher at the United States Mint driven by a robust economy and renewed interest in collector spurred by the 50 State Quarters Program. More people were paying attention to their pocket change and saving coins from circulation rather than spending them. Although the half dollars were rarely seen in circulation at this point, some banks could still provide original wrapped rolls.
The mintages for the 2000-S Proof Kennedy Half Dollars rose for both the clad composition and 90% silver composition coins. This was the result of high sales of the annual proof sets containing the coins. Each of these issues remain in steady supply for present day collectors.
2000 Kennedy Half Dollar Mintage and Specifications
Circulation Mintage: 22,600,000 (Philadelphia), 19,466,000 (Denver)
Proof Mintage: 3,082,483 (copper-nickel), 965,421 (silver proof)
Mint Marks: P (Philadelphia), D (Denver), S (San Francisco)
Composition: 91.67% copper, 8.33% nickel (standard) / 90% silver, 10% copper (silver proof)
Weight: 11.34 grams (standard) / 12.50 grams (silver proof)
Diameter: 30.61 mm