The 1964 Kennedy Half Dollar (Buy on eBay) was the inaugural issue for the series created to memorialize the popular President. The coins were struck for circulation at the Philadelphia and Denver Mints. The Philadelphia Mint also struck proof versions of the coin for inclusion within government issued sets. All coins minted with this date are struck in a composition of 90% silver and 10% copper.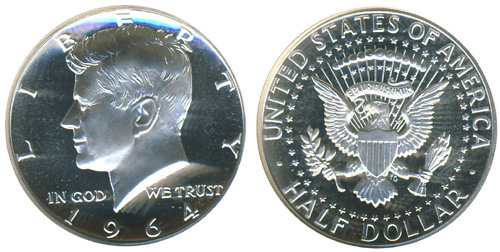 The circulation strikes were saved in large numbers by the public, initially as a memento of President John F. Kennedy, but in later years due to the silver content. This was the final year that the half dollar was struck in 90% silver and each coin contains a net weight of 0.36169 in pure silver. Coins are readily available in grades through gem, although they can be much more difficult to find in higher mint state grades. Despite the huge mintages, the major grading companies PCGS and NGC have graded around 120 circulation strikes as MS67 and just a single example as MS68. This considers coins from both Philadelphia and Denver.
The 1964 Proof Kennedy Half Dollar was released ahead of the circulation strikes and amidst heavy demand had a final mintage of 3,950,762. This was the highest production level for a proof set to date. Proof coins from this year which exhibit cameo or deep cameo contrast command a premium from collectors. There can be intense competition for the finest known pieces graded PCGS PR69DCAM or NGC PF 69 Ultra Cameo. Additionally, the accented hair variety, which accounts for only 1% to 3% of the mintage, drives a premium from collectors of the series.
1964 Kennedy Half Dollar Mintage and Specifications
Circulation Mintage: 273,304,004 (Philadelphia), 156,205,446 (Denver)
Proof Mintage: 3,950,762
Mint Marks: none (Philadelphia), D (Denver)
Composition: 90% silver, 10% copper
Weight: 12.50 grams
Diameter: 30.61 mm