The third and final special product issued by the United States Mint to mark the 50th anniversary of the Kennedy Half Dollar series was a Silver Four Coin Set (Buy on eBay). Each coin included in the set was struck at a different mint facility with a different finish.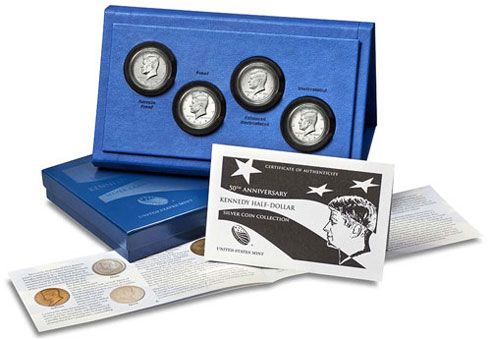 A coin from the West Point Mint featured a reverse proof finish, consisting of mirrored raised design elements and inscriptions against a frosted background. This represented the first use of the reverse proof finish for the series. A coin from the San Francisco Mint featured an enhanced uncirculated finish, with different degrees of laser frosting used to create a unique appearance. Once again, this represented the first use of the finish within the series. The set was completed with a coin struck at the Philadelphia Mint with a proof finish and a coin struck at the Denver Mint with an uncirculated finish.
All four coins included in the set featured the original Gilroy Roberts portrait design restored from 1964. All coins were struck in a composition of 90% silver and included the respective mint marks on the obverse.
Packaging for the set consisted of an embossed faux leather folder containing an image of President Kennedy and flag imagery. A booklet on the development of the design and separate printed certificate of authenticity were also included.
The 2014 50th Anniversary Kennedy Half Dollar Silver Coin Collection went on sale at the US Mint on October 28, 2014. The sets were priced at $99.95 each with an ordering limit of five sets per household imposed. A product limit of 300,000 units was announced just days prior to the start of sales.
Opening orders for the product were somewhat lower than expected, reaching 85,670 units. This fell below the initial production amount of 180,000 units indicated by the US Mint. The subdued reaction to the offering seemed to prompt the US Mint to make quick adjustments to the ordering and product limits. Within a month of the initial release, the household ordering limit was removed and the product limit was reduced to 225,000 units.
Production and Specifications
Date: 2014
Mint Marks: P (Philadelphia), D (Denver), S (San Francisco), W (West Point)
Quality: Proof (Philadelphia), Uncirculated (Denver), Enhanced Uncirculated (San Francisco), Reverse Proof (West Point)
Production Limit: 225,000
Composition: 90% silver, 10% copper
Weight: 12.500 grams
Diameter: 30.61 mm