After a few years of relatively stable mintages, the 2008 Kennedy Half Dollar (Buy on eBay) saw production levels decline. The Philadelphia and Denver Mint each produced 1,700,000 coins, which actually represented the lowest mintage for a circulation strike within the entire series. A few subsequent releases have also matched this amount.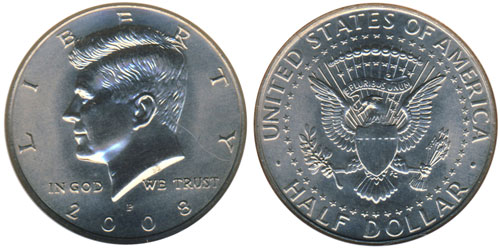 The circulation strike coins were offered in two roll sets, containing one roll of 20 coins from each the Philadelphia and Denver Mint. Additionally, bags containing 200 coins, split evenly between the two mints, were made available for collector sales. These products had become the standard offering and only distribution outlet for this version of the coin.
The San Francisco Mint struck proof versions in both standard composition and 90% silver composition. These coins were included within the full annual proof set and silver proof sets released later in the year. The Philadelphia and Denver Mint struck satin finish versions of the coin, which were included in the annul mint set.
2008 Kennedy Half Dollar Mintage and Specifications
Circulation Mintage: 1,700,000 (Philadelphia), 1,700,000 (Denver)
Proof Mintage: 1,405,674 (copper-nickel), 763,887 (silver proof)
Mint Marks: P (Philadelphia), D (Denver), S (San Francisco)
Composition: 91.67% copper, 8.33% nickel (standard) / 90% silver, 10% copper (silver proof)
Weight: 11.34 grams (standard) / 12.50 grams (silver proof)
Diameter: 30.61 mm