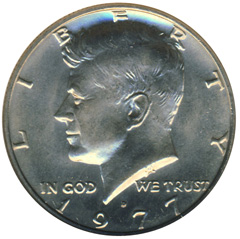 The mintages for Kennedy Half Dollars have varied widely during the course of the series. A large number of coins were struck for the first year of issue, which was also the final year that the composition of 90% silver was used for circulation. Another spike occurred in 1976, when a special reverse design was used to celebrate the nation's bicentennial.
Mintage levels would experience a general decline in the following years, as the use of the denomination within circulation declined. In response to the declining demand, from 2002 to present the half dollars were not struck for circulation, but only produced in the small quantities needed to satisfy demand from collectors. Two other low mintage issues of the series occurred in 1970 and 1987, when the half dollars were only issued within Mint Sets.
The table below displays the mintage figures for circulation strike Kennedy Half Dollars. During the series, coins were struck for circulation at the Philadelphia and Denver Mints. From 1965 to 1967 the use of mint marks was temporarily suspended in response to coin shortages. No half dollars dated 1975 were issued, as this year production of the 1976-dated bicentennial issue was authorized.
Kennedy Half Dollar Mintages
| Year | Philadelphia | Denver |
| --- | --- | --- |
| 1964 | 273,304,004 | 156,205,446 |
| 1965 | 65,879,366 | N/A |
| 1966 | 108,984,932 | N/A |
| 1967 | 295,046,978 | N/A |
| 1968 | N/A | 246,951,930 |
| 1969 | N/A | 129,881,800 |
| 1970 | N/A | 2,150,000 |
| 1971 | 155,164,000 | 302,097,424 |
| 1972 | 153,180,000 | 141,890,000 |
| 1973 | 64,964,000 | 83,171,400 |
| 1974 | 201,596,000 | 79,066,300 |
| 1976 | 234,308,000 | 287,565,248 |
| 1977 | 43,598,000 | 31,449,106 |
| 1978 | 14,350,000 | 13,765,799 |
| 1979 | 68,312,000 | 15,815,422 |
| 1980 | 44,134,000 | 33,456,449 |
| 1981 | 29,544,000 | 27,839,533 |
| 1982 | 10,819,000 | 13,140,102 |
| 1983 | 34,139,000 | 32,472,244 |
| 1984 | 26,029,000 | 26,262,158 |
| 1985 | 18,706,962 | 19,814,034 |
| 1986 | 13,107,633 | 15,336,145 |
| 1987 | 2,890,758 | 2,890,758 |
| 1988 | 13,626,000 | 12,000,096 |
| 1989 | 24,542,000 | 23,000,216 |
| 1990 | 22,278,000 | 20,096,242 |
| Year | Philadelphia | Denver |
| --- | --- | --- |
| 1991 | 14,874,000 | 15,054,678 |
| 1992 | 17,628,000 | 17,000,106 |
| 1993 | 15,510,000 | 15,000,006 |
| 1994 | 23,718,000 | 23,828,110 |
| 1995 | 26,496,000 | 26,288,000 |
| 1996 | 24,442,000 | 24,744,000 |
| 1997 | 20,882,000 | 19,876,000 |
| 1998 | 15,646,000 | 15,064,000 |
| 1999 | 8,900,000 | 10,682,000 |
| 2000 | 22,600,000 | 19,466,000 |
| 2001 | 21,200,000 | 19,504,000 |
| 2002 | 3,100,000 | 2,500,000 |
| 2003 | 2,500,000 | 2,500,000 |
| 2004 | 2,900,000 | 2,900,000 |
| 2005 | 3,800,000 | 3,500,000 |
| 2006 | 2,400,000 | 2,000,000 |
| 2007 | 2,400,000 | 2,400,000 |
| 2008 | 1,700,000 | 1,700,000 |
| 2009 | 1,900,000 | 1,900,000 |
| 2010 | 1,800,000 | 1,700,000 |
| 2011 | 1,750,000 | 1,700,000 |
| 2012 | 1,800,000 | 1,700,000 |
| 2013 | 5,000,000 | 4,600,000 |
| 2014 | 2,500,000 | 2,100,000 |
| 2015 | 2,300,000 | 2,300,000 |
| 2016 | 2,100,000 | 2,100,000 |
| 2017 | 1,800,000 | 2,900,000 |
| 2018 | 4,800,000 | 6,100,000 |
| 2019 | 1,700,000 | 1,700,000 |
| 2020 | 2,300,000 | 3,400,000 |
| 2021 | 5,100,000 | 7,700,000 |