The United States Mint offered circulating quality versions of the 2010 Kennedy Half Dollar (Buy on eBay) starting on January 22, 2010. These coins were available in bags containing 200 coins, with an even split of "P" and "D" mint marked coins or two roll sets containing one 20-coin roll from each mint facility. The half dollar was no longer released for the channels of general circulation, but was only available to collectors within numismatic products.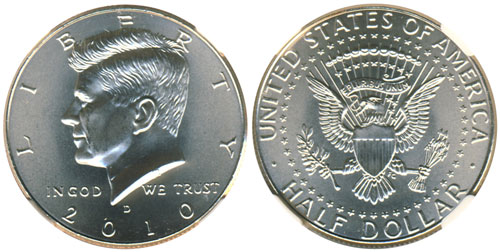 In addition to the offering of bags and rolls, the half dollar was also present within various annual coin sets offered by the United States Mint throughout the year. The 2010 Proof Set and 2010 Silver Proof Set, both contained the 2012-S Proof Kennedy Half Dollar. These coins feature a cameo proof finish and were produced at the San Francisco Mint. One coin was struck in the standard composition, while the other was struck in 90% silver. The difference is noted by the silver edge of the coin or the original packaging.
The 2010 Uncirculated Coin Set contained the final satin finish Kennedy Half Dollars. These coins were struck at the Philadelphia and Denver Mints with the "P" and "D" mint marks and featured a higher quality, frosted appearance created through a special minting process. These coins are differentiated as "SMS" or "Satin Finish" and generally collected as separate issues from the circulating quality coins.
2010 Kennedy Half Dollar Mintage and Specifications
Circulation Mintage: 1,800,000 (Philadelphia), 1,700,000 (Denver)
Proof Mintage: 1,103,815 (copper-nickel), 585,401 (silver proof)
Mint Marks: P (Philadelphia), D (Denver), S (San Francisco)
Composition: 91.67% copper, 8.33% nickel (standard) / 90% silver, 10% copper (silver proof)
Weight: 11.34 grams (standard) / 12.50 grams (silver proof)
Diameter: 30.61 mm