After years of generally declining production and decreased usage within commerce, the United States Mint stopped producing half dollars for circulation. Accordingly, the 2002 Kennedy Half Dollar (Buy on eBay) saw a big decline in mintage, although the issue remains readily available due to robust collector sales.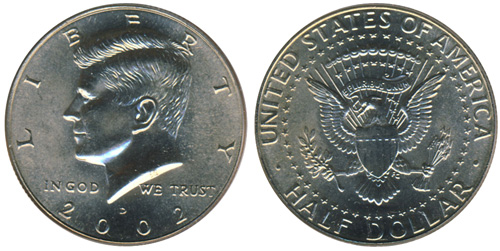 The Philadelphia and Denver Mint circulation strike half dollars were included in the 2002 Uncirculated Mint Set, which saw total sales of 1,139,388. Late in the year, the United States Mint announced that quantities of the coins would also be sold in rolls and bags.
Starting on November 25, 2002, collectors could purchase two roll sets containing one roll from each mint facility for $35.50. Also available were bags containing a face value of $100 worth of half dollars, with an even mix of "P" and "D" mint marked coins. These bags were priced at $135.00. Relatively strong sales for these products drove overall mintages to 3,100,000 and 2,500,000 for the Philadelphia and Denver Mint circulation strike coins, respectively.
The 2002-S Proof Kennedy Half Dollar was once again available in standard copper-nickel clad composition or 90% silver composition. These coins were issued within the annual proof set and silver proof set.
2002 Kennedy Half Dollar Mintage and Specifications
Circulation Mintage: 3,100,000 (Philadelphia), 2,500,000 (Denver)
Proof Mintage: 2,319,766 (copper-nickel), 892,229 (silver proof)
Mint Marks: P (Philadelphia), D (Denver), S (San Francisco)
Composition: 91.67% copper, 8.33% nickel (standard) / 90% silver, 10% copper (silver proof)
Weight: 11.34 grams (standard) / 12.50 grams (silver proof)
Diameter: 30.61 mm