To celebrate the 50th anniversary of the series, the United States Mint offered three special products incorporating 2014 Kennedy Half Dollars (Buy on eBay) from a different mint facilities and across a variety of finishes. The specially issued coins featured the original obverse portrait of President Kennedy designed by Gilroy Roberts. During the year, standard versions of the half dollar were also released bearing the modern portrait design.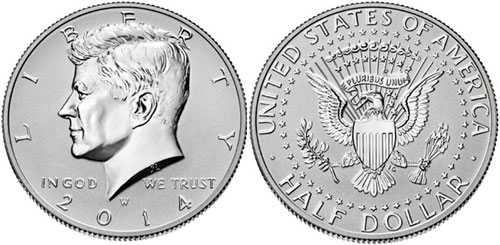 Over the years, the design of the Kennedy Half Dollar had undergone a series of tweaks and modifications that left the modern appearance very different than the original. The idea to restore the original portrait was first suggested by San Francisco Mint employee Michael Levin and would be implemented for the 50th anniversary of the series. The obverse portrait was restored by scanning and digitizing a bronze galvano and an original die from the 1964 Kennedy Half Dollar and creating a new basin from the 1964 hub basin curvature.
The restored obverse portrait would be used across seven different coins included in three different 50th anniversary products. The two-coin Uncirculated Coin Set included standard composition half dollars from the Philadelphia and Denver Mints with an uncirculated finish. The four-coin Silver Coin Collection included 90% silver half dollars from four different mint facilities with four different finishes. A three-quarter ounce 24 karat gold proof coin struck at the West Point Mint was also available.
Prior to the release of the special anniversary products, the US Mint had offered the standard product offerings for the including 2014 Kennedy Half Dollars with the regular modern obverse portrait. Two roll sets and 200-coin bags containing circulating quality half dollars from the Philadelphia and Denver Mint went on sale February 13, 2014. These were priced at $32.95 per two roll set and $139.95 per 200-coin bag.
The annual sets issued for the year contained the 2014-S Proof Kennedy Half Dollars with the modern portrait. The standard composition proof coins were included in the 2014 Proof Set as well as other 2014 celebration sets. The 90% proof composition coins were included within the 2014 Silver Proof Set and the 2014 Limited Edition Silver Proof Set, which was actually released in 2015.
Lastly, uncirculated quality half dollars with the modern portrait were included within the 2014 Uncirculated Coin Set. These coins feature a superior finish to the circulating quality examples released in bags and rolls, but are not typically identified as a separate issue.
2014 Kennedy Half Dollar Mintage and Specifications
Circulation Mintage: 2,500,000 (Philadelphia), 2,100,000 (Denver)
Proof Mintage: 767,977 (copper-nickel), 472,107 (silver proof)
Mint Marks: P (Philadelphia), D (Denver), S (San Francisco)
Composition: 91.67% copper, 8.33% nickel (standard) / 90% silver, 10% copper (silver proof)
Weight: 11.34 grams (standard) / 12.50 grams (silver proof)
Diameter: 30.61 mm