For a second year, the United States Mint did not issue the annual uncirculated mint set. This makes examples of the circulation strike 1983 Kennedy Half Dollar (Buy on eBay) more difficult to find.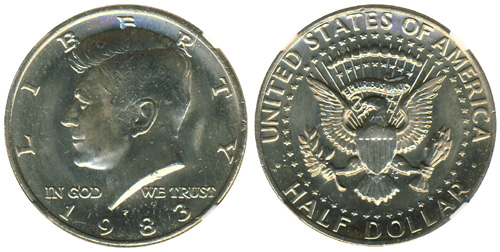 In typical years of the series, mint sets provide a ready source of uncirculated half dollars for collectors. These sets were originally sold by the US Mint in quantities usually stretching into the millions and remain available on the secondary market at modest premiums to the face value of the coins. The premiums attached to the half dollars of 1982 and 1983, show the impact that these sets have on the availability of uncirculated clad coins for the series.
The production of proof coinage did continue. The 1983-S Proof Kennedy Half Dollar was struck at the San Francisco Mint with a mintage of 3,279,126.
1983 Kennedy Half Dollar Mintage and Specifications
Circulation Mintage: 34,139,000 (Philadelphia), 32,472,244 (Denver)
Proof Mintage: 3,279,126
Mint Marks: P (Philadelphia), D (Denver), S (San Francisco)
Composition: 91.67% copper, 8.33% nickel
Weight: 11.34 grams
Diameter: 30.61 mm