For the tenth year in a row, the fifty cent denomination was not issued for circulation. Rather the 2011 Kennedy Half Dollar (Buy on eBay) was struck in limited quantities and distributed only within United States Mint numismatic products.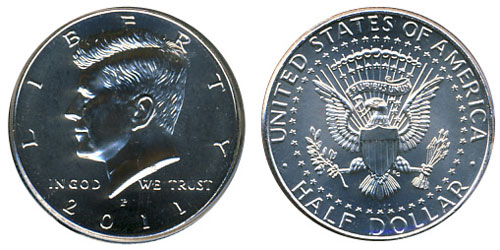 Circulating quality versions of the coin were sold within 200-coin bags and two roll sets, containing equal numbers of coins from the Philadelphia and Denver Mints with the "P" and "D" mint mark. These products originally went on sale February 15, 2011 and remained available throughout the year.
The proof versions of the 2011 Kennedy Half Dollar were the first to be released when the US Mint began sales of the 2011 Proof Set and 2011 Silver Proof Set in January. This included versions struck in the standard composition and in 90% silver at the San Francisco Mint with the "S" mint mark.
In February, the US Mint released the 2011 Uncirculated Coin Set, which included examples of the half dollar struck at the Philadelphia and Denver Mints. As a change from previous year, the coins included in these sets contained a brilliant finish. Previously, from 2005 to 2010, these sets had contained coins with a satin finish. The new brilliant finish is not differentiated as a separate issue from the standard circulation strike.
2011 Kennedy Half Dollar Mintage and Specifications
Circulation Mintage: 1,750,000 (Philadelphia), 1,700,000 (Denver)
Proof Mintage: 1,098,835 (copper-nickel), 574,175 (silver proof)
Mint Marks: P (Philadelphia), D (Denver), S (San Francisco)
Composition: 91.67% copper, 8.33% nickel (standard) / 90% silver, 10% copper (silver proof)
Weight: 11.34 grams (standard) / 12.50 grams (silver proof)
Diameter: 30.61 mm