The release of the 2014 Kennedy Half Dollar Gold Proof Coin (Buy on eBay) was met with a frenzied response from those eager to obtain the first available examples of the coin. The product represented the second of three special products released to mark the 50th anniversary of the series.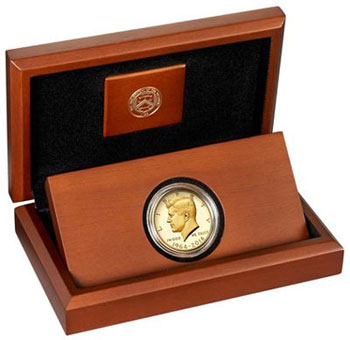 The coin was struck in three-quarters of an ounce of 24 karat gold, representing the US Mint's first use of this non standard weight. The obverse of the coin featured the original portrait design restored from the 1964 Kennedy Half Dollar with an inscription of the dual date "1964-2014". The reverse design featured the heraldic eagle designed by Frank Gasparro with the additional inscription "3/4 OZ. . 999 FINE GOLD" located beneath the eagle's tail feathers.
The coins were struck at the West Point Mint facility with the "W" mint mark placed on the reverse. The coins had the same diameter and thickness as a standard half dollar. Packaging consisted of a custom designed, brown mahogany hardwood presentation case with a removable coin well and certificate of authenticity.
Sales for the 2014 Kennedy Half Dollar Gold Proof Coin opened on August 5, 2014. On this date, the US Mint accepted orders through their website and by phone. A total quantity of 2,500 coins were also planned to be available Chicago World's Fair of Money held in Rosemont, Illinois from August 5-9, 2014. An additional 500 coins were also to be offered at the Philadelphia and Denver Mint and the sales counter at US Mint headquarters in Washington DC. The coins were initially priced at $1,240 each with an ordering limit of five per household through standard channels and an ordering limit of one per customer at physical locations.
Demand for the coins at the physical locations was astounding, with thousands of people lining up to purchase the limited number of coins released each day. The first four coins sold at the World's Fair of Money were reported to have been purchased by a dealer for $20,000, with the first coin reportedly resold for $100,000. Dealers paid premiums to buyers for any of the coins purchased at the physical locations, further driving the frenzy. The US Mint would eventually suspend sales of the coin at all physical locations out of safety concerns.
Across all channels, opening day sales for the gold proof coins reached 56,694 units. This exceeded the initial production of 40,000 coins indicated by the US Mint. After the strong opening, sales for the coins stalled as secondary market prices for the coins corrected. Later in the year, the US Mint removed the household ordering limit and announced a product limit of 75,000 units.
Production and Specifications
Date: 2014
Mint Marks: W (West Point)
Quality: Proof
Production Limit: 75,000
Composition: 99.99% Gold
Weight: 0.7500 troy ounce
Diameter: 30.61 mm