The 1974 Kennedy Half Dollar (Buy on eBay) would be the last issue of the series before a brief design change would take place. There would be no 1975-dated half dollars produced. Already this year production would begin for the bicentennial design carrying the dual date of 1776-1976.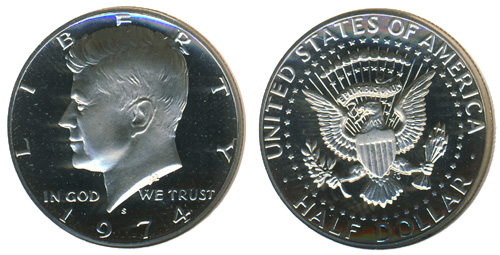 For the present year, circulation production once again took place at the Philadelphia and Denver Minta facilities. For the Denver issue, a doubled die obverse variety is noted. The lettering is prominently doubled for the word "TRUST".
Proof versions of the coin were struck at the San Francisco Mint for inclusion within the annual proof sets. Production matched the sales level for the sets at 2,612,568.
1974 Kennedy Half Dollar Mintage and Specifications
Circulation Mintage: 201,596,000 (Philadelphia), 79,066,300 (Denver)
Proof Mintage: 2,612,568
Mint Marks: none (Philadelphia), D (Denver), S (San Francisco)
Composition: 91.67% copper, 8.33% nickel
Weight: 11.34 grams
Diameter: 30.61 mm