The Kennedy Half Dollar continued to be produced exclusively for coin collectors and not released for general circulation during the era from 2010 to present. There would be some excitement in 2014 when special products were issued to mark the 50th anniversary of the series.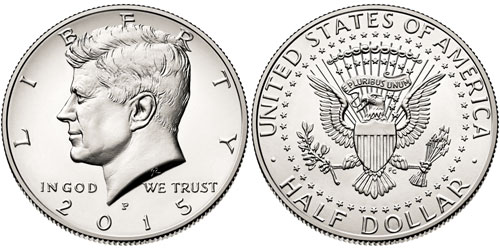 The standard offerings for the half dollar had consisted of circulating quality coins packaged in numismatic bags and rolls. Collectors could purchase the coins directly from the United States Mint at a modest premium to face value. Mintage levels remained low since the coins were only produced in the amount needed to satisfy collector demand.
Additional numismatic versions of the Kennedy Half Dollar included the standard composition proof as well as a 90% silver proof struck at the San Francisco Mint and carrying the "S" mint mark. Traditionally, these coins were only available within the annual Proof Set and Mint Set. In some years, additional annual sets would incorporate the coins.
In 2014, the Mint offered three special products to celebrate the 50th anniversary of the series. Each of the products contained coins exclusive to the sets, in standard copper-nickel clad, 90% silver, and 24 karat gold compositions. These products also marked the restoration of the original portrait design by Gilroy Roberts.
Kennedy Half Dollars By Year