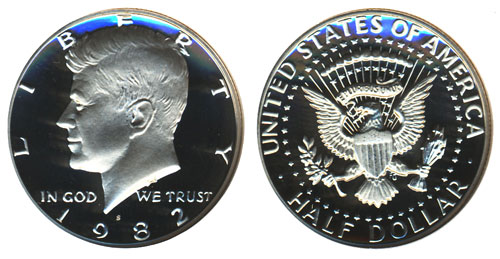 Kennedy Half Dollars have been struck in proof format for each year of the series, with the exception of 1965-1967 when special mint set coins were issued in place. As with the broader series, the proof coins were struck in different compositions as the silver content of the denomination was altered. Each proof coin was issued as part of a complete government issued proof set containing multiple denominations.
For the first year of issue, the 1964 Proof Kennedy Half Dollar was struck in 90% silver, the same composition as the circulating version of the coin. These coins were produced at the Philadelphia Mint.
The next proof coins to be issued from 1968 to 1970 were struck in 40% silver, again matching the composition of the circulation strikes. Starting with 1968, all proof coin production would take place at the San Francisco Mint with coins bearing the "S" mint mark on the obverse
The following year, the silver content was completely removed from the half dollar, resulting in a copper-nickel clad proof coins struck from 1971 to present.
There were several proof Kennedy Half Dollars specially produced for collectors with silver content. This included the 1976-S half dollars struck in 40% silver and included in a special three coin set to celebrate the Bicentennial. Decades later in 1992, the US Mint released an annual Silver Proof Set, which included the half dollar struck in 90% silver. The most valuable proof Kennedy Halves are some of the lower mintage 90% silver issues.
Proof Kennedy Half Dollar Mintages
| | |
| --- | --- |
| 1964 | 3,950,762 |
| 1968-S | 3,041,506 |
| 1969-S | 2,934,631 |
| 1970-S | 2,632,810 |
| 1971-S | 3,220,733 |
| 1972-S | 3,260,996 |
| 1973-S | 2,760,339 |
| 1974-S | 2,612,568 |
| 1776-1976-S | 7,059,099 |
| 1776-1976-S Silver | 4,000,000 |
| 1977-S | 3,251,152 |
| 1978-S | 3,127,781 |
| 1979-S | 3,677,175 |
| 1980-S | 3,554,806 |
| 1981-S | 4,063,083 |
| 1982-S | 3,857,479 |
| 1983-S | 3,279,126 |
| 1984-S | 3,065,110 |
| 1985-S | 3,362,662 |
| 1986-S | 3,010,497 |
| 1987-S | 4,227,728 |
| 1988-S | 3,262,948 |
| 1989-S | 3,220,194 |
| 1990-S | 3,299,559 |
| 1991-S | 2,867,787 |
| 1992-S | 2,858,981 |
| 1992-S Silver | 1,317,579 |
| 1993-S | 2,633,439 |
| 1993-S Silver | 761,353 |
| 1994-S | 2,484,594 |
| 1994-S Silver | 785,329 |
| 1995-S | 2,117,496 |
| 1995-S Silver | 679,985 |
| 1996-S | 1,750,244 |
| 1996-S Silver | 775,021 |
| 1997-S | 2,055,000 |
| 1997-S Silver | 741,678 |
| 1998-S | 2,086,507 |
| 1998-S Silver | 878,792 |
| 1999-S | 2,543,401 |
| 1999-S Silver | 804,565 |
| 2000-S | 3,082,483 |
| 2000-S Silver | 965,421 |
| 2001-S | 2,294,909 |
| 2001-S Silver | 889,697 |
| 2002-S | 2,319,766 |
| 2002-S Silver | 892,229 |
| 2003-S | 2,172,684 |
| 2003-S Silver | 1,125,755 |
| 2004-S | 1,789,488 |
| 2004-S Silver | 1,175,934 |
| 2005-S | 2,275,000 |
| 2005-S Silver | 1,069,679 |
| 2006-S | 2,000,428 |
| 2006-S Silver | 1,054,008 |
| 2007-S | 1,702,116 |
| 2007-S Silver | 875,050 |
| 2008-S | 1,405,674 |
| 2008-S Silver | 763,887 |
| 2009-S | 1,477,967 |
| 2009-S Silver | 694,406 |
| 2010-S | 1,103,950 |
| 2010-S Silver | 585,414 |