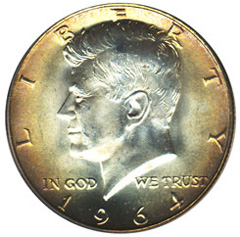 Kennedy Halves have been struck on planchets of three different compositions. The first composition for coins dated 1964 consists of 90% silver and 10% copper, which had been used for the denomination since 1873. When in uncirculated condition, these half dollars should weigh 12.50 grams (193 grains) with a diameter of 30.6 mm. The net weight of pure silver is 0.36169 troy ounces. The 90% silver composition was also used for silver half dollars issued in Silver Proof Sets from 1992 to present.
The second composition, first used from 1965 to 1970, consists of 40% silver content, which made it the only circulating coin at the time to still contain silver. The outer layers are 80% silver and 20% copper which is bonded to an inner core of 20.9% silver and 79.1% copper. These so-called silver clad coins weigh 11.50 grams (177.50 grains) with the same diameter of 30.6 mm. The net weight of pure silver is 0.1479 troy ounces. The 40% silver composition was also later used for bicentennial 1976 Kennedy Half Dollars issued in three coin proof or uncirculated sets.
The last composition used for the series was used from 1971 to date and consists of 91.67% copper and 8.33% nickel. The outer layer is 75% copper and 25% nickel boned to an inner core of pure copper. These coins weight 11.34 grams (175 grains) and have a diameter of 30.6 mm.
Kennedy Half Dollars have been struck at the Philadelphia and Denver Mints for circulation and at the San Francisco Mint in proof format. The mintmark for the 1964 Denver issue is found on the reverse, below the right leg of the eagle. From 1968 to present, the mintmark is found on the obverse, under the truncation of the bust. The Philadelphia minted coins did not have a mint mark until 1980, but once added it was used for all subsequent years.